PJ's Guitar Chords & Lyrics - Free download of guitar tablature for songs by Counting Crows
| Contact | Guestbook& Forum | Search | Links | About this site | Guitar Chords | New Songs | Guitar Guide
| Affiliates|
|
Realise your potential as a Guitarist with a guitar lessons program which has turned thousands of learners and average guitar players into real guitarists.

Whether you are a beginner or an accomplished guitar player, visit Guitar-Alliance, the BEST Online Multimedia Guitar Lessons resource.

Start your journey to being a real 'Guitar Player', from basic chord playing to mastering the fretboard, everything you will need is here.

Check out this new JustAcoustic program specially designed for acoustic guitar players, it has everything the 'unplugged' guitarist needs to know.
Round Here
Rain King
Omaha
Murder of One
Goodnight Elisabeth
Einstein on the Beach

Guitar Tips

To get GREAT Guitar Tips, lessons and advice - check out my partner site GuitarTips. Chris Elmore will help you achieve your guitar playing goals.

His GuitarSongs site teaches you to write powerful, catchy songs. His brand new Speed Learning System has just launched - with these amazing techniques you will see an immediate boost in your playing

All of thse resources plus his Guitar Backing Tracks, GuitarLeads and Guitar Theory programs are available at Elmore-Music.com

Start Playing Lead Guitar today -

Guitar-Leads.com is a brilliant new site which will show you how to play Lead Solos from Classic Rock songs by Led Zeppelin, Clapton, The Doors, Eagles, Steely Dan and many, many more!

There are over 200 Lead Guitar solos by your favorite Lead Guitar Players - and you can start playing these leads right now!

Check out their cool new SongSurgeon software - a must have tool for all musicians

A Long December
Anna Begins
Mister Jones
Accidentally In Love

Guitar Backing Tracks is a brilliant collection of drum, bass and synth effect tracks which you can integrate to provide over 5,000 different backing tracks to jam along with.

Whether you want to practice your licks, improve your Rhythm Chord playing or compose & record your own songs, this is a must-have resource.

Guitar-Backing-Tracks is your own Virtual Backing Band!

Click here to find out how you can learn singing techniques that will enable you to sing high notes with ease and power, even if you are a bass singer.

Just picture yourself a year from now, stunning listeners with the power and sustainability of your singing.

Extend your vocal range, and give those vocal chords the stamina to see the night out with VocalRelease voice training.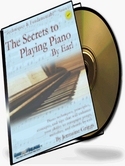 "The Secrets to Playing Piano By Ear" 300pg Course - Learn the secrets to playing literally any song on the piano with a few simple, "easy-to-understand" techniques and principles! Join Jermaine Griggs in learning tons of music theory, concepts, and tricks that will help you to learn piano by ear! Thousands of musicians have already taken advantage of this excellent program ... why not you?

I personally recommend "The Secrets to Playing Piano By Ear" and through my relationship with Jermaine, I've been able to get him to throw in a few bonus items (3 additional piano software programs). Click here to learn the secrets to playing absolutely any song on the piano in virtually minutes! I highly recommend it.